Victor Chapela, the founder-CEO of Suggestic, is a lifelong entrepreneur who started his first company at the age of 19. In the decades before his current venture as he successfully grew and exited four other companies, he has not only perfected the role of a founder-CEO but is also a keen observer of changing trends in leading and managing a startup.
Click here to listen to the Building Health Solutions podcast episode where Victor discusses what's at the heart of being a successful founder-CEO with Erica Sanders, Suggestic's head of communication and content.
Note: the term "founder-CEO" refers to an individual who established a company and holds its chief executive officer (CEO) position, but these findings will surely also be interesting for those in other roles, such as non-founder CEO, student, employee, or even an investor looking to get insight into the mind of a startup owner.
The core roles of a founder-CEO
Developing and communicating the vision

Storytelling

Reducing risk

Breaking down the tasks
A great vision attracts
Everything you have at the start of the company is the idea of something great, something that could make the world a better place. This is your vision.
A wonderfully narrated vision attracts people to want to join you on your journey. Usually, you don't need to convince people about the mission. They already believe in the mission. What you have to do is convince them that your idea can make the vision come true better and faster than any other one.
Helping people living happier and healthier lives is our mission, which we share with a lot of people. What the founder-CEO brings is the ability to tell a story as if you were to travel to the future, come back, and tell everyone what you've learned. Your vision is how can you get to that place in the future where yours is the company building and delivering that technology.

— Victor Chapela, Suggestic founder-CEO
You don't need to be a great public speaker to be a great storyteller
If you're a founder-CEO, you are already comfortable and great at telling stories, otherwise you would have chosen a different role. It is a fundamental task of a founder-CEO to be able to craft and narrate stories about their vision.
Storytelling is also one of the most persuasive and popular marketing strategies. According to the cognitive psychologist Jerome Bruner, the human mind is 22 times more likely to remember facts if they are a part of a story. Storytelling builds an emotional connection which is at the basis of building a relationship with any level of stakeholder.
All of this, however, doesn't mean that you must be extremely eloquent or great at speaking on stage. It just means that you bring meaning to what you are doing and articulate why people should care. You should be able to convince people that your mission is valuable enough for them to join.
When you start a business, the risk is infinite
The probability of a new business failing is high. As soon as you start taking the steps in the right direction – bringing in money through sales or investments, getting a cofounder and the first employees, etc. – the risk starts to reduce.
At the same time that you are reducing the risk, you have to work on accelerating the growth. These two forces combined generate the entrepreneur flywheel.
The most important risks to reduce:
Identifying the market for your product or service and making sure it is sustainable and scalable

maintaining customer loyalty




An average SaaS business spends 92% of their first-year revenue on customer acquisition. In other words, it takes 11 months to pay back their customer acquisition cost.
Sharing the vision with every employee
Everybody wants to be a part of something they believe in. It's the role of a founder-CEO to communicate the vision of the company so clearly that even the employee doing the most minute, short-term task can find meaning and see how they align with the mission to change something in the world.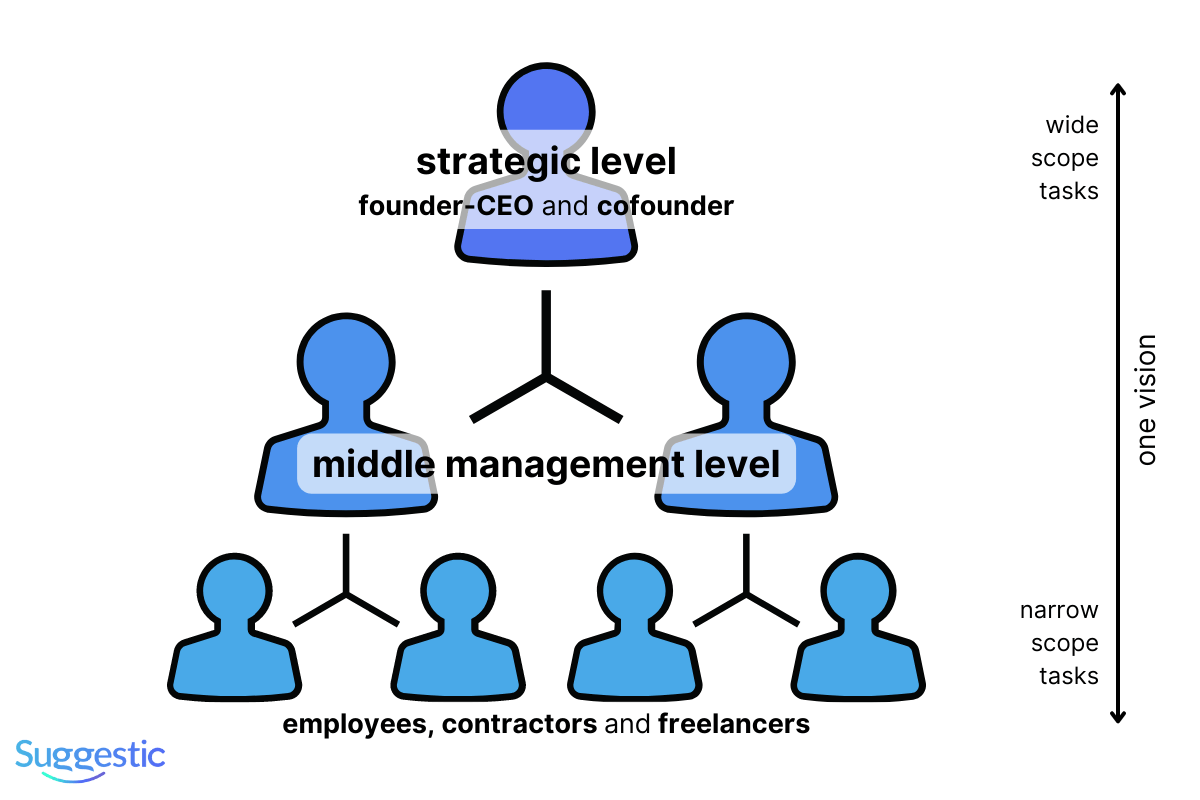 As your company grows, adding new layers at the bottom is inevitable. What many entrepreneurs fail to notice, though, is that each new layer requires new communication. Each new layer requires the vision to be broken down into even smaller pieces. Choosing a software to support this fragmented communication is crucial (e.g., Linear, Slack, Notion etc.)
But how do you make sure that the vision of the company translates into the final tasks?
Break down the mission level by level. The highest level in the company formulates a strategy. The strategy is broken down by the next layer of management into specific goals for their areas. The specific area management then breaks down the goals further and assigns specific tasks to the next group of people.
Final tasks, although they may seem tiny and be performed by the bottom-tier employees, can massively impact the public perception of your brand. Examples are the color palette on the homepage, the add-to-cart button, the social media copy, or the chatbot communication. The founder-CEO doesn't have enough hours in a day to micro-manage these tasks, but with streamlined communication and trust within the hierarchy, these small tasks build a bigger picture, one that the founder had visualized in the beginning.
Sharing the vision with the rest of the stakeholders
Trends in communication have shifted from secrecy to very public narration of the company's story of growth, including successes and setbacks.
While the fear of competition used to keep companies quiet about their internal processes, open and loud communication now ensures that all stakeholders – from employees to customers to existing and potential investors – are on the same page.
One-on-one communication with each stakeholder can be very time-consuming, so the founder-CEO should leverage one-to-many communication. Some methods include:
emails that go to groups within the organization

recurring 15- to 30-minute meetings for a specific area or project 

investor updates

email or newsletter to existing customers

webinar

podcast

social media posts
This current trend is called building in public. Share your challenges and successes openly and freely. Don't worry about revealing too much to the competition. The more exposure you can get for what you are doing and how you are doing it, the easier it is to bring people onboard, whether they want to help you grow as an investor, customer, or employee.
Don't be afraid to make mistakes because every opportunity to learn is an opportunity to grow.