With half of Americans attempting to lose weight and become healthier[1], the market opportunity for apps is huge.
Building an app used to be reserved for tech whizzes or big corporations with big budgets, but in the last couple of years, more and more APIs are available that can simplify that process. This means that small to medium companies and even individuals, such as personal trainers, functional medicine doctors, and nutritionists, can take a prebuilt health and weight loss API and quickly, easily, and cheaply integrate it into a branded app to help their clients.
What are weight loss and health APIs?
API stands for Application Programming Interface. In not-so-technical terms, it's software that lets two applications communicate with each other. APIs often have a database (of recipes, health content, different tracking tools, etc.) attached on one side, and the user application on the other. This means that the end-user gets to see the personalized and branded interface by your brand, but the API developers do the large chunk of the programming.
It's also possible to integrate multiple smaller APIs combined to work together in a solution. An example could be a weight loss application that uses one API to parse nutrition information for specific foods, another to suggest nearby restaurants, and the third one for meal planning.
This blog post explores 5 APIs that support the weight loss journey from different points of view.
Suggestic API – personalized nutrition powerhouse
Suggestic is a unique all-in-one food, recipe, and meal planning API specialized in personalization to each user's unique health journey.
Why it's unique
hyper-personalization

accounts for not only allergens, sensitivities, and intolerances, but also preferences and availability (based on location and budget)

over 5,000 premium handcrafted recipes (plus more than 1.7 million recipes from web) available

520,000 restaurants and 35 million menu items

7,000 ingredients, 179 nutrients, and over 1,000 food groups

allows you to add your own custom diets, recipes, and programs through

Program Creation Console

create user profiles (including each user's name, age, weight, and eating habits and preferences)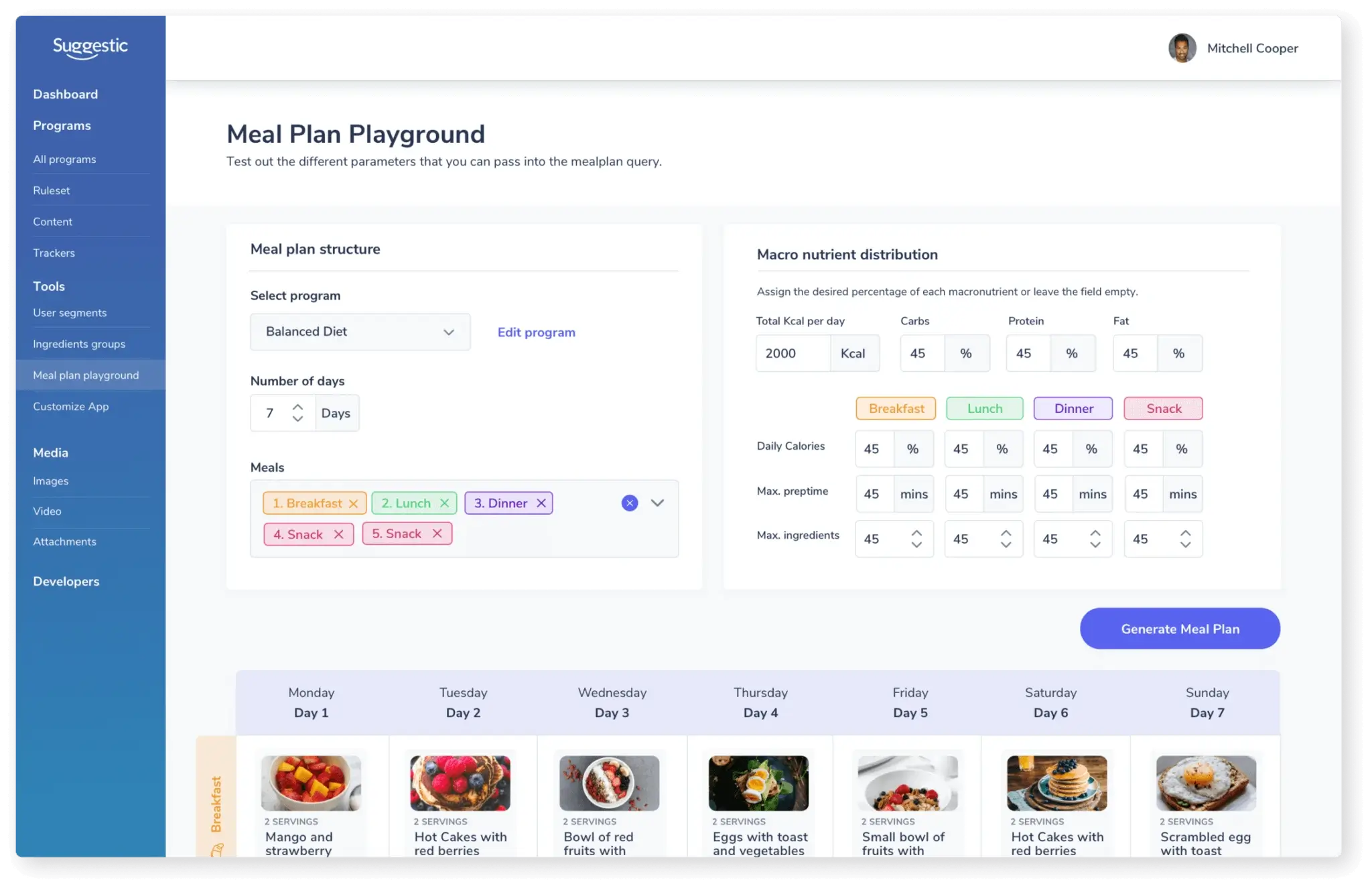 Pricing
The pricing structure is tiered; the first 100 monthly users are free. Learn more about Suggestic API here.
Spoonacular API – food ontology
Spoonacular is a recipe analyzing and meal planning API. It automatically recognizes allergens in recipes (through natural language queries), and classifies them into diets, such as vegan, vegetarian, paleo, primal, low FODMAP, and more.
Why it's unique
shoppable recipes

can extract recipes from any website

"what's in your fridge" recipe search

over 2,600 ingredients, 5,000 recipes, more than 600 thousand products, 800 American restaurant chains, and 115 thousand menu items
Pricing
Monthly subscriptions start at free. Learn more about Spoonacular API here.
The FatSecret Platform API – trusted by the biggest digital health brands
FatSecret API can be used to build nutrition, diet, and weight management solutions on different platforms, from mobile devices to desktop applications. It is one of the most widely used nutrition APIs, with the likes of Amazon, Fitbit, and Nestle using their database.
Why it's unique
different tools, such as food diary, exercise diary, weight chart, and journal

over 1 million food items that can be accessed by scanning the barcode (the database is updated daily with the barcode hit rate of over 90%)
Pricing
There are free options for start-ups and non-profits with unlimited API calls, but carry the FatSecret attribution. Pricing for enterprises is custom. Learn more about the FatSecret Platforrm API here.
wger Workout Manager API – workout and meal management
This unique, open-source web application has a full range of functionalities that can be integrated into weight loss apps. It can be used in multiple ways – either to change user habits through creating and following exercise and nutrition plans or in more straightforward ways, such as a gym management utility.
Why it's unique
workout management tool to create and manage your workout routines

nutrition management tool to create diet plans according to a database of nutritional guidelines

weight tracker

exercise database with over 100 exercises that can be combined into workout routines
Pricing
Free. Find the wger Workout Manager API documentation here, and learn more about the software here.
ZivaCare API – health data integration
ZivaCare is an interesting API that collects user data through devices, sensors, and wearables. It is compatible with many popular trackers, such as Fitbit, Runkeeper, and iHealth. This solution can be used in myriad ways, from supporting patients with particular conditions to helping users optimize their weight and energy levels by closely monitoring their vital signs and body measurements.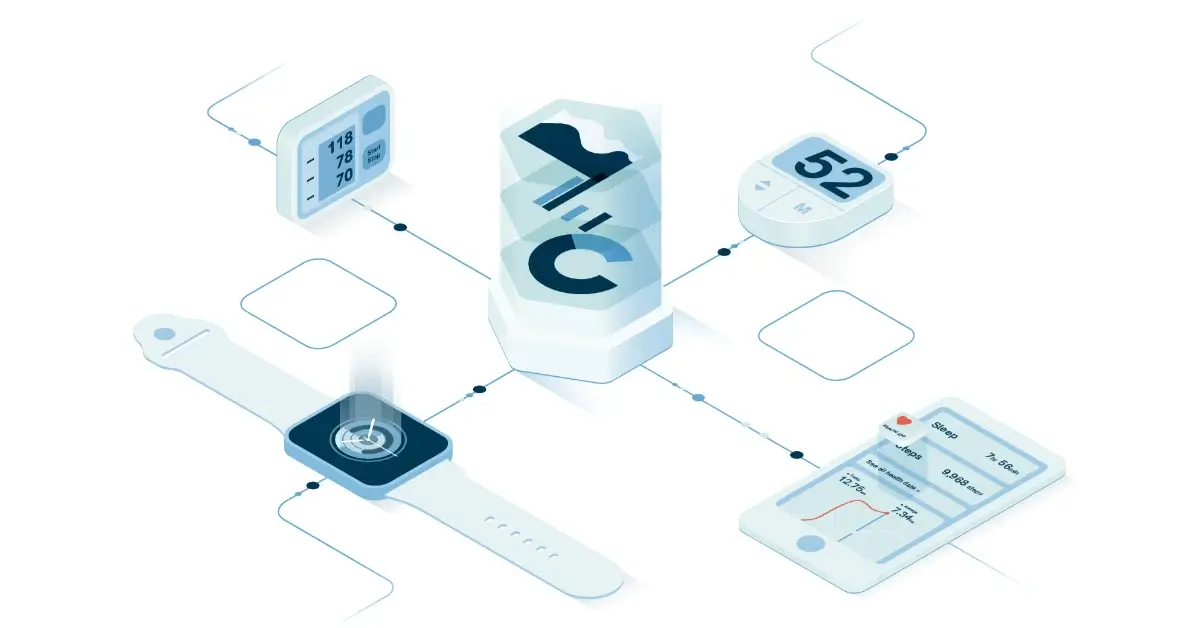 Why it's unique
allows querying body measurements (head, neck, arms, hands, waist, and legs)

allows querying biomarkers (glucose, oxygenation, blood pressure, body fat, BMI, genome, heart rate, height)

allows setting health goals (activity, body fat, meals, sleep, steps, water intake, weight)

allows setting thresholds (such as assisted breathing condition threshold, bradypnea, cardiac arrest, and even flat feet or heel overload)
Pricing
Pricing options are available after registering. Find out more about ZivaCare API here.
Conclusion
Weight loss is more complicated than just eating less and moving more. Research has shown that 80% of people who lose weight do not maintain the new weight for even a year[2], and as many as 95% regain it within 1 to 5 years[3]. Permanent weight loss requires a lasting change in habits, which is a matter of body and mind. The best weight loss apps combine tools for tracking, monitoring, and supporting the user throughout the health journey.
Check out our Food API and Recipe API posts for more exciting health and nutrition app solutions.