Suggestic's CEO Victor Chapela recently held a webinar on how to make sure your health or nutrition app survives (and thrives) through a recession. You can watch the webinar here or read the summarized findings below.
We're always exploring how health and nutrition apps can benefit businesses and customers. Now more than ever, we've been focused on this goal. 
Specifically, we've been looking at the changes in consumer behavior during an economic downturn, customer acquisition and monetization strategies, and how to anticipate with smart positioning, communication and product offerings.
Business models that work during a recession
Choosing a suitable business model is a crucial step in ensuring your business thrives through an uncertain economy. Below are the four models that have enabled our customers to succeed in the health and nutrition app space.
The app subscription
This is a direct-to-consumer business model where you deliver the health or nutrition app in exchange for a monthly payment.
Use this model for meditation, fitness, and weight loss apps.
Avoid this model for particular nutrition apps (except weight loss) that can't sustain themselves due to the narrow niche (examples: carnivore for building muscles, vegan for heart health).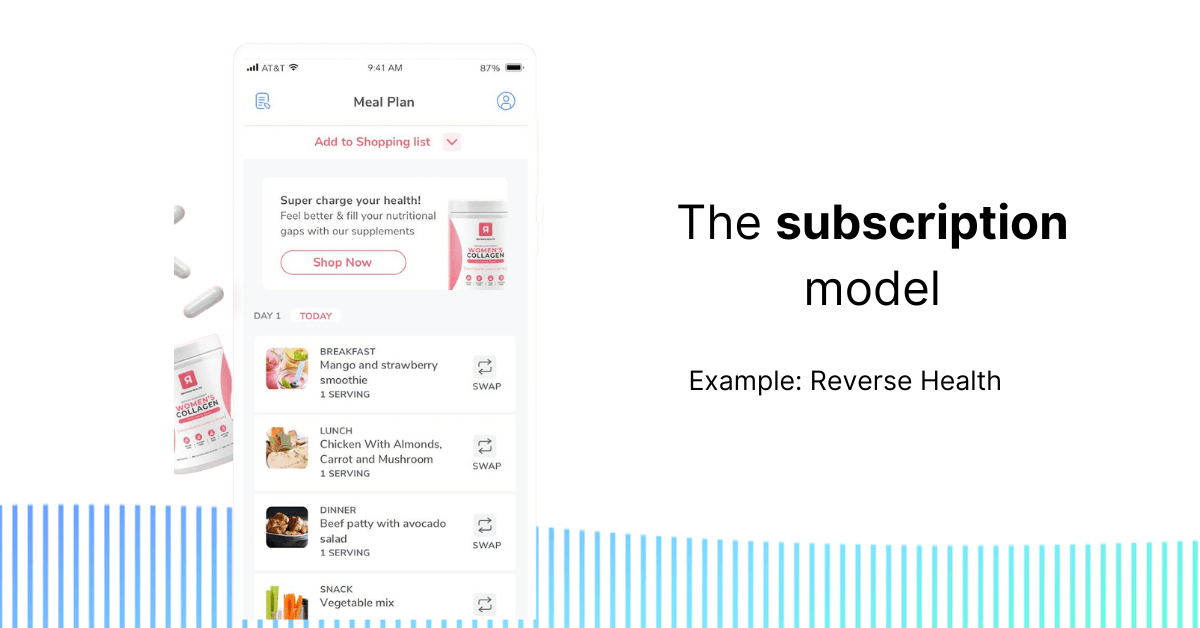 Our client Reverse Health is focused on helping menopausal women lose weight. This is a niche within the very deep weight loss category, so they have succeeded in achieving over $1 million in monthly revenue with a direct-to-consumer subscription model.
The B2B model with a CPT code
The "business-to-business" model relies on reimbursement through a Current Procedural Terminology ("CPT") code instead of direct payment from the consumer. CPT codes describe medical procedures performed by physicians and other qualified healthcare professionals. They are used to communicate with the insurer or payer what and how much to reimburse. 
Creating a new code is an exceptionally lengthy process; therefore, it is best to match your app to an existing code. Since this directly impacts costs, consumers are more likely to want to participate, which means your customer acquisition cost is likely greatly reduced.
One example is the National Diabetes Prevention Program by the CDC, which offers various CPT codes allowing both licensed and non-licensed coaches to deliver online programs to prevent diabetes and help users live a healthier lifestyle. The reimbursement can account for up to $400 per person over three months.
Out of over 1,500 registered healthcare providers, only a few have an app. An example is Omada Health, a virtual care program allowing individuals and employers in preventing and treating diabetes, hypertension, and joint and muscle problems.
The B2P (business-to-professional) 2C model
In this model, health or nutrition professionals are  the distribution mechanism. It's an exciting model to pursue since the professionals are both your customers and your distributors.
In a direct-to-consumer app, your customer acquisition cost is upfront – you need to pay, for example, for the ads and promotion. In a B2P2C app, the professional in the middle uses their network to bring the consumers to you. They can be paid through a revenue share or affiliate marketing. This built-in network is an additional revenue stream, which offsets other costs. 
The companion app
Rather than the leading revenue generator, the role of this type of app is to strengthen the primary offering and to help capture secondary revenue streams. The main revenue stream is a product such as a wearable, lab test, supplements, or food. The app follows consumers through their use of the product or service and can also help upsell additional compatible products.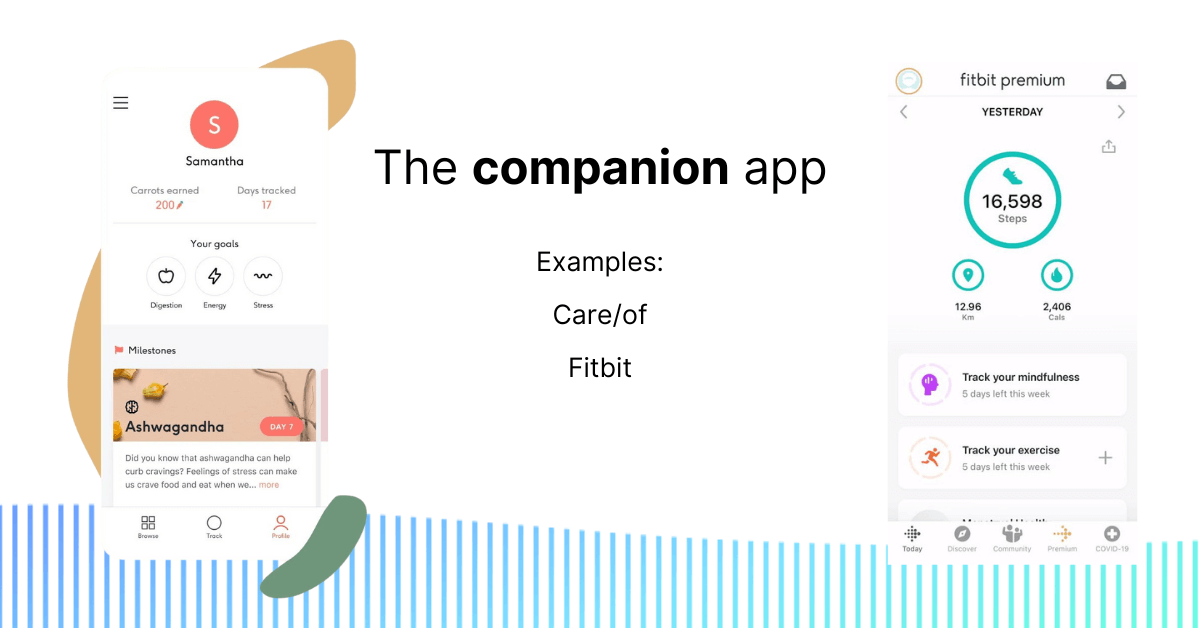 The Freemium Option
While we still observe freemium as one of the most common monetization strategies in the app store, it does not work well in the health and nutrition space. Because the customer acquisition cost is so high, this model dilutes the number of people that are willing to pay for the app.
✨ If you want to offer the consumer the same feeling of freedom as a freemium, provide a money-back guarantee instead.
How consumer habits change during an economic downturn
Moving down on Maslow's hierarchy of needs
During a recession, priorities shift.  Our need for self-actualization and esteem takes a backseat to those for physiological and safety, such as food, shelter, and sleep. A health and nutrition app perfectly covers those must-haves. It is essential in this environment to understand your customer's profile and offer budget-friendly recipes, shopping lists, and health interventions.
Reducing upfront costs
As uncertainty rises, it takes people longer to decide whether and how to spend their money. This is why being clear in your messaging about the payment schedule is so important.
Many models now offer an incentive to consumers by charging a "pay upfront" (i.e., annual) price that reflects a discount over, say, monthly payments.  However, in a difficult economy, the following strategies make consumers feel safer and more taken care of:
full money-back guarantee

pay-as-you-go (monthly or weekly subscription)

option to cancel
Maintaining and monetizing retention
As explained in the previous section, you provide consumer financing through a difficult economic situation. Since they are paying in monthly installments, keeping them engaged and coming back is even more critical. How do you do that?
Increase the users' value perception over time by increasing their knowledge of self (through behavioral science streak systems, accumulation of data from wearables, and before and after lab tests.)

Continuously upload new content that educates the users about their bodies and health.

Interact with your users. Our internal studies have found that even one 15-minute telehealth or telewellness session a month increases retention by 5 percent.
Within health and nutrition apps, users pay for:
personalization (relevance to where they are and what they believe in)

guidance (accountability and hand-holding)

convenience (the ease of transition)
Personalization
Two types of personalization include:
body personalization (wearables, at-home blood, urine, DNA tests, etc.)

belief system personalization (what the user believes, what they think they can achieve, what their goals are, and whether they perceive the journey as easy or difficult)
Both types are equally as important. The only way to keep a customer, especially through tough times is to deeply understand them and personalize the experience to their needs and wishes.
Guidance
The shorter the health journey, the more guidance the user will require.
Take, for example, a trip to a popular tourist destination.. If you visit Rome for a weekend, you want your tour guide to show you all the most important monuments and landmarks within the short tour. If you stay in the city for a month, you'd probably prefer the guide to show you local places, introduce you to the community of expats or digital nomads, and give you a starting point to explore on your own.
Likewise, if you're taken on a longer health journey, you want to become a part of the community where you receive tips and answers to your questions and concerns. That can be a community of users or the connection between users and health professionals.
Convenience
In our years of launching health apps, we have found that users are much better at eliminating than adding. It's far more convenient to support them in eliminating bad habits (e.g., sugar, soda, sedentary lifestyle) and supplementing the rest to reach the nutrient optimum.
✨ This year, Suggestic is adding the option of delivery of supplements, probiotics, and food (from grocery stores or restaurants) based on the shopping list and meal plan.
Personalization, guidance, and convenience are a winning combination, making the users keener to stay on track and pay more.
Conclusion
Different business models that can help your app thrive through an economic downturn are DTC, B2B with a CPT code, B2P2C, or a companion app. Each can utilize the explained monetization strategies to add value through a health journey.
Creating a health journey for the user is a complex task because it has moving pieces – telewellness, personalization through lab tests and wearables, content guidance, community chat, delivery of food and supplements. Suggestic has built the technology that enables you to implement this concept while saving time and money.